3-D Imaging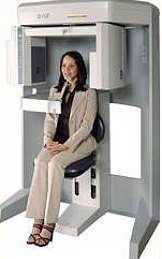 Dr D'Angelo uses the state of the art diagnostic imaging system ( iCAT computerized tomography) to generate extremely accurate three-dimensional images of his patients' jaws.
This enables our doctors to evaluate the exact shape and density of the jaws and exact location of important anatomical structures to provide the safest implant placement possible.
By using this technology they can plan the ideal size and position of the needed implants as well as enabling the fabrication of an implant placement guide.The guide can help them make certain that the implants are placed in the precise location in the jaw as it was planned on the computer simulation.
As a result, the implant surgical procedure done by our doctors is safer, more accurate and therefore has the highest success rate compared to implants placed without this technology.
In addition, due to the thorough planning when these techniques are utilized, the procedures are typically quicker and most often have very little or no post-operative discomfort and reduced risk of infection.