3D DIAGNOSTIC IMAGING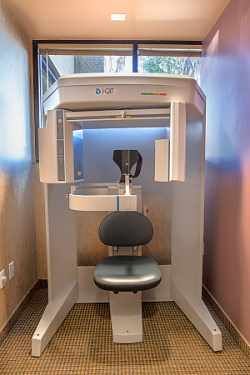 The most advanced Dental 3D imaging unit available with the most comprehensive imaging capability is offered by our friendly doctors.
Precise three-dimensional images of the teeth, jaws, and head are delivered with the use of the iCAT utilizing Cone Beam Computerized Tomography (CBCT).
The advanced imaging technology, utilizing a three-dimensional (3D) model, allows analysis from multiple angles and allows the most comprehensive images for dental implant treatment planning. Cross sections from can be examined using the digital model in order to provide a better analysis of the soft and hard tissue of the mouth. This 3D technology is a state-of-the-art tool used for assessments and diagnoses of wisdom teeth, TMJ analyses, orthodontic planning and checking for airway obstructions (that may occur with sleep apnea patients). In addition, the 3D system provides data useful for diagnoses of fractured teeth and root canal concerns.
The two-dimensional images of traditional x-rays have a large number of limitations largely due to the fact that they only provide the view of an area from one perspective. Panoramic x-ray images may be used as well, but they are also 2-dimensional and, in addition, have significant dimensional distortion. Traditional and panoramic x-rays will continue to play an important part in basic dental diagnoses and screenings, but they are not comprehensive enough for more complex dental treatments.
The advanced 3D CBCT images, with their dimensional precision, are used by our La Jolla dentists in diagnosing and planning provide the most accurate and safe dental implant treatment.
Additional CBCT advantages are that the images are very similar to those obtained with the use of medical CAT scan units, yet they provide even more accuracy that traditional x-rays with just a small fraction of the radiation. The iCAT was designed specifically for dental diagnosis.
Among our dentists, primary goals during implant planning and placement are accuracy, safety and ensuring high success rates.
Our doctors are proud to offer this state-of-the-art technology to his patients in the convenience of his La Jolla office in order to provide the highest quality of advanced dental care, as well as many other significant technical and diagnostic advantages derived from use of iCAT and 3D imaging.