Digital X-Rays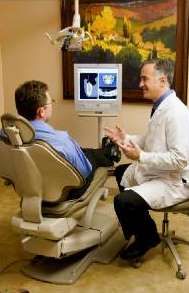 Picture Perfect – Digital X-Rays
Your picture-perfect smile starts with the perfect picture obtained from our advanced digital X-ray technology.
Our friendly and compassionate staff is dedicated to providing you with the safest, most convenient, state-of-the-art treatment options available today and that is why our office uses advanced digital X-rays.
No more waiting for the film to develop – you'll see your teeth in a whole new light and clearly on a computer screen. This allows Drs. D'Angelo, Olson and Hoffman to diagnose quickly, accurately and confidently.
Quicker, easier, and clearer than traditional X-ray technology, our digital technology exposes you to less radiation, cutting exposure by 75% or more, compared to traditional X-rays.
We want your dental experience to be the best – and we're more than happy to answer any questions you may have about this or any of our technology.
For more complex cases and dental implants, Dr. D'Angelo, Dr. Olson and Dr. Hoffman use 3-D dental imaging technology.
Benefits of Digital X-Rays
Comfortable
Instant
Precise Diagnosis
Safer Technology