Cosmetic Tooth Veneers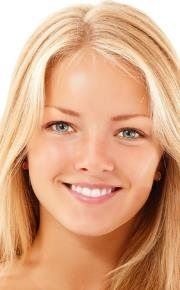 Dental Veneers are thin shells that are custom crafted and bonded to the surface of the teeth. Although they can be fabricated from different materials, the San Diego dentists at La Jolla Dentistry, most often use porcelain because of its durability and realistic appearance.
Veneers require minimal tooth preparation, relative to other cosmetic dental procedures, veneers can achieve outstanding improvements in color, alignment, size discrepancies, and general appearance.
With his years of experience of mastery of aesthetics, our dentists in La Jolla, California can use porcelain veneers to make almost any smile flawless. Even crooked teeth or poorly spaced teeth can be straightened and appear aligned with porcelain veneers – using the technique sometimes termed "instant orthodontics."
Porcelain veneers are the more conservative alternative to dental crowns because the veneer requires less removal of the original surface of a tooth. Porcelain veneers, when prepared and applied properly, provide a beautiful natural appearance. Upon completion, the veneers look and feel like real teeth and not appear to be bulky, opaque or thick. Our dentist work with each patient to choose the ideal veneer color and shape to enhance your smile, without looking fake or unnatural. Our office collaborates in a close relationship with his master ceramist who provides a beautiful match to each patient's teeth as well as the highest quality in durable and reliable veneers.
As in all dentistry, dental experience, skill, and attention to detail make all the difference in the final result.