Anchor Dentures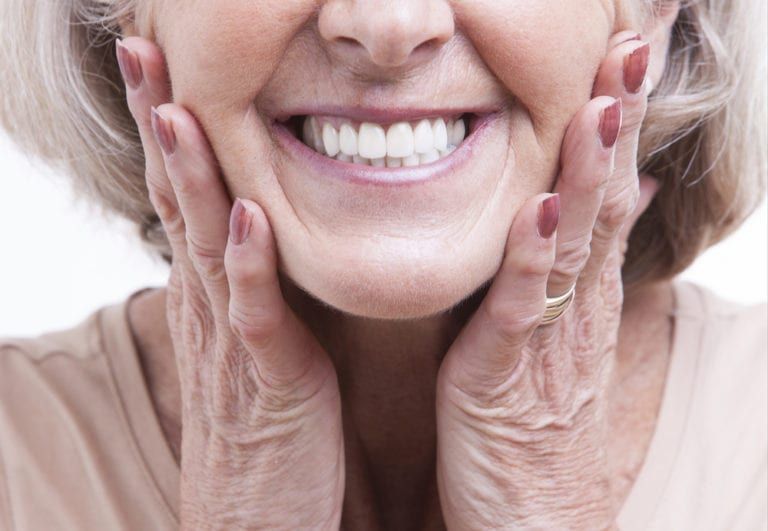 Anchoring Full or Partial Dentures
In addition to the use of dental implants for replacing single or multiple missing or damaged teeth, dental implants can also be used to anchor full or partial removable dentures. This provides much greater retention and security than traditional techniques.
Removable partial dentures are usually retained by the use of clasps and rest on teeth adjacent to the missing teeth. These unsightly attachments often place enormous stress on teeth involved and may lead to problems in later years such as decay, periodontal disease, or additional tooth loss. Our La Jolla dentist carefully selects ideal sites for dental implants to act as anchors and subsequently places attachments inside the denture where they can't be seen.
Dr. D'Angelo, Olson, and Hoffman can also eliminate the need for the removable appliance by replacing most or all of the missing teeth with crowns supported by dental implants.
Full dentures depend on the shape of the residual bone, the quantity and quality of the saliva and suction for retention. The longer dentures are worn the more bone loss occurs.
To make matters worse, as we age there is a tendency for a decrease in salivary flow. The solution to this problem could be the placement of dental implants to provide retention and support or replace the denture with a fixed bridge entirely supported by dental implants.
See photos and case descriptions of implants used to secure dentures
AM I A CANDIDATE FOR DENTAL IMPLANTS & DENTURE RETENTION?
After a thorough examination with appropriate x-rays and study models, our dentist can help you determine if you are a candidate for dental implants.
Call us at 858 459-6224